Welcome from Rob Hayworth
Rob Hayworth and his team serve a variety of clients in and around Northern Indiana. His team is composed of Kevin Bontrager, CLU®, ChFC®,AEP, Randall Lehman, CLU®, ChFC®, AEP, Pam Imm, Lori Oetting, Shan Barnett, Allison Marigny, and Carrie Ochoa.
Financial planning doesn't happen by chance; it is the product of sound decision-making. Whether you are looking to protect, grow or transfer wealth, as a Wealth Management Advisor, Rob Hayworth can help. He understands the complex financial issues and the ways in which these issues might affect your future.
Financial planning requires a commitment of time—yours and his. Rob Hayworth will work to understand your current personal and financial circumstances and your goals for the future. He will work to do more than determine a planning solution by building a strategy that is right for you. Together, you will work to develop a financial plan that balances your short-term needs with your long-term goals.
And Rob will stay in touch, so as your needs evolve over time you can make the changes necessary to your plan protecting your overall financial picture for the future.
Let Rob Hayworth help you ensure your financial future is all you want it to be.

Our Mission
"To create relationships built on a foundation of integrity and trust that motivate our clients to passionately pursue the fulfillment of their dreams."
Our planning process educates and supports our clients in a team environment to help them define and achieve the most meaningful and important financial goals of their lives by integrating their values into a comprehensive wealth plan.
Innovative strategies focus on effective risk management, wealth accumulation and wealth preservation to help our clients accomplish their objectives.

A New Approach to Retirement Planning - Exclusively from Northwestern Mutual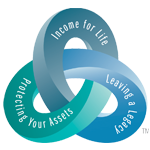 Imagine being confident that your income will last throughout your retirement years—despite changes in the economy or how long you live. Northwestern Mutual's retirement income planning process is designed to help provide you with a steady income stream for as long as you live.
Four-Step Planning Process
Wealth Optimization
With financial independence, family legacy and social capital solutions in place, wealth optimization becomes the focus of the planning process. Rob Hayworth uses a unique and disciplined values-based approach to help you make wise choices and to help ensure that your plan is focusing on what you value.
Rob breaks the planning process into four quadrants or phases, each one representing one planning cycle: Discovery, Creative Solutions, Strategy Deployment, and Results Management.

DISCOVERY
The first phase begins by thinking clearly about the problem. This is called the Discovery phase and this is where clarity is achieved around your goals and planning gaps are identified.
CREATIVE SOLUTIONS
The second phase is the Creative Solutions phase where you think clearly about the solutions and make decisions regarding closing the planning gaps.
STRATEGY DEPLOYMENT
The third phase is the Strategy Deployment phase where you implement the solution and help achieve your desired results.
RESULTS MANAGEMENT
The final phase is the Results Management phase where we establish a plan to manage and implement the results. This assures you have confidence your plan will work over time.
Working with a knowledgeable and experienced planner who has access to current technologies and a thorough understanding of tax rules and financial planning techniques is important. Working with an advisor who takes the time to understand your unique desires and goals is critical.
Rob will take the time to help you make that assessment, develop a plan that works for you, and provide you with the tools and strategies necessary to successfully implement that plan.
Copyright 2011 The Legacy Companies, LLC. Concepts used in these materials used with permission from The Legacy Companies, LLC. Legacy Materials and Concepts are only made available to advisors in Fee-Based Financial Planning program at the Northwestern Mutual Wealth Management Company.